Thank you for registering! We sent you a confirmation email; please click the validation link to confirm your subscription.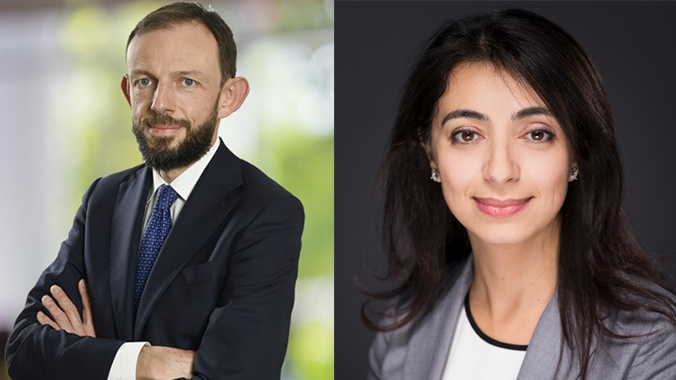 Appointments within Groupe BPCE
Franck Leroy appointed Deputy Chief Executive Officer in charge of Group Risk Management and
Rajâa Meghar appointed Chief Risk Officer, Global Financial Services.
Franck Leroy has been appointed Deputy Chief Executive Officer in charge of Group Risk Management and BPCE Executive Management Committee member. He succeeds Stéphanie Paix.
Rajâa Meghar has been appointed Chief Risk Officer, Global Financial Services, and Senior Management Committee member of this division. She succeeds Franck Leroy.
For Nicolas Namias, Chairman of the Groupe BPCE Management Board: "Franck Leroy's appointment as Deputy Chief Executive Officer in charge of Group Risk Management recognizes his 25 years of experience in the financial industry and his highly varied career within Groupe BPCE. He has demonstrated the extent of his technical and personal qualities by furthering the sustainable development of both our retail banking activities and our global business lines amid unprecedented geopolitical, economic and financial circumstances. In recent years, he has made a strong contribution to the structuring of the Risk function, with results that have been hailed by all. Franck possesses a solid skill-set that will enable him to fully succeed with these new responsibilities for the benefit of the Group."
For Stéphanie Paix, Chief Executive Officer, Global Financial Services: "I am pleased to welcome Rajâa Meghar to the Global Financial Senior Management Committee as successor to Franck, who I would like to thank warmly for the extent of his work. Underpinned by 15 years of varied experience within the Group, Rajâa has all the qualities to succeed in her new functions. Her arrival will see Natixis CIB and Natixis IM benefit from her expertise and professionalism and from her highly extensive knowledge of the Group and the specifics of our global business lines."

Biography of Franck Leroy
Franck Leroy has almost 25 years of experience in the financial industry. He began his career in 1998 as a financial engineer at Société Générale Asset Management (SGAM) and subsequently became a credit and high yield portfolio manager in 2001. He was appointed Head of Engineering in 2005 and later became a member of the SGAM Management Committee in 2008. Franck then headed the Investment Solutions department, and was Head of Employee Savings, Asset Allocation, Multimanagement and Financial Engineering. In 2010, he joined Banque Palatine as Finance Director, Head of Markets and Financial Management, member of the Management Committee, and was later appointed Head of Market Risks and ALM at Groupe BPCE in 2016. Franck was appointed Global Head of Market Risks at Natixis in 2020. Since January 2022, he has been Chief Risk Officer for the Global Financial Services division.
Franck Leroy is a graduate of Ecole Polytechnique and Ecole Nationale des Ponts et Chaussées.
Biography of Rajâa Meghar


Rajâa Meghar began her career in 2004 in asset management, where she was managing risk monitoring functions for fixed income and credit arbitrage funds. She joined Natixis in 2007 where she initially had responsibility for risk & results monitoring for credit structuring activities, before heading the market risks team on the creation of BPCE. She was then in charge of rolling out the Group risk management system covering both market and investment risks. In 2017, she became deputy to the Chief Financial Risk Officer, with a remit covering financial markets, ALM, valuation and investment. Since 2020, Rajâa Meghar has been Chief Financial Risk Officer for Groupe BPCE.
Rajâa Meghar holds a master in Statistical Analysis from Paris Descartes University and a Master in Stochastic Calculation Applied to Finance from the University of Marne la Vallée.