Thank you for registering! We sent you a confirmation email; please click the validation link to confirm your subscription.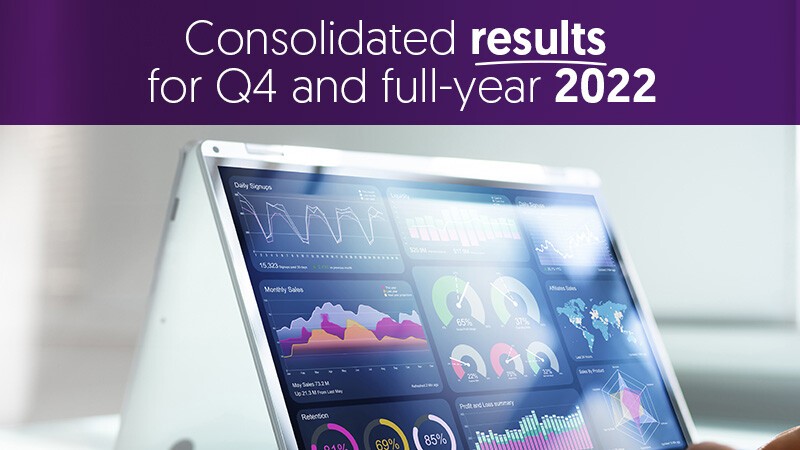 Full-year 2022 and Q4-22 results of Groupe BPCE
KEY FIGURES
2022: Solid revenues and results
- Revenues of €25.7bn, stable vs. 2021, driven by buoyant sales growth
- Net income of €4bn, stable vs. 2021, including a doubling of provisions for future risks
Q4-22:
- Net banking income of €6.3bn, down 10% vs. Q4-21 in a less favorable business environment and vs. a very high basis of comparison. Net income equal to €549 million, down 33% vs. Q4-21
- Cost/income ratio1 of 66.7% in 2022 thanks to tight control of expenses, despite inflation
BUSINESS LINES/ACTIVITIES
Retail Banking & Insurance: development of business activities in the Banque Populaire and Caisse d'Epargne retail banking networks in 2022; lending rates increased at a faster pace in Q4-22 reflecting the overall upward trend in interest rates, particularly for Livret A passbook savings accounts; net banking income up by 2%2 in 2022
Local & regional financing: 8% YOY growth in loan outstandings, reaching a total of €701bn
Insurance: net inflows of €5.1bn in life insurance in full-year 2022, 7% increase in non-life insurance premiums

Financial Solutions & Expertise:

+8%2 growth in net banking income vs. 2021 driven by financing and guarantees activities

Digital Inside: 10.4m active customers on mobile devices

, +15% vs. December 2021; a weekly average of

50m visits
Global Financial Services: decline in revenues kept to 6%2 vs. 2021 thanks to the continued development of CIB franchises (net banking income: +2%2) but Asset Management faced an adverse market environment, just like the sector overall (net banking income down 14%2)
Asset & Wealth Management: €1,079bn in assets under management at end-2022 for Natixis IM; increase in the commission rate in Q4-22 to 26.6bps; net banking income impacted by the adverse market environment in 2022, as in the sector overall, and by a high basis of comparison in 2021

Corporate & Investment Banking: 2nd year of growth in a volatile business environment; net banking income up 2%2 in 2022 thanks to the strategy of diversification and development of the business activities. 17%2 YoY growth in Global Markets revenues in 2022; net banking income stable in Global Finance vs. 2021; the Trade Finance business performed well.

P&L/CAPITAL
- Costs kept under control: cost/income ratio stood at 66.7%1 in 2022 (excluding the SRF), costs remained stable vs. 2021, despite inflation
- Pursuit of a cautious provisioning policy and cost of proven risk at a low level:
Cost of risk for the Group: €2bn in 2022, or 24bps, and €772m in Q4-22, including respectively €852m for full-year 2022 and €330m in Q4-22 of additional provisions for future risks (Stage 1/ Stage 2)
Group cost of proven risk (Stage 3) of €1.1bn: 14bps in 2022 vs. 18bps in 2021
- Capital adequacy at a high level: CET13 ratio of 15.1% at the end of December 2022
 
Nicolas Namias, Chairman of the Management Board of BPCE, said: "Groupe BPCE has reported very solid results. In what proved to be an adverse economic and financial environment for some of our businesses, we nevertheless continued to expand our business activities in all our customer segments while continuing to maintain prudent risk management and good control over our expenses. We are determined to further expand the major role we already play in financing the French economy. This environment, characterized by higher interest rates, is putting our retail banking activities in a transitional phase, but this context will ultimately prove to be positive for our business lines. I am confident in the ability of the Banques Populaires and Caisses d'Epargne, of Natixis CIB, Natixis IM and all our activities to continue their growth for the greater benefit of their customers in this new environment. Our financial strength, the robustness of our business lines, and the solidity of our corporate governance system are major assets for pursuing our strategy and investing in our development. I would like to express my thanks to all the Groupe BPCE personnel both in France and abroad who, thanks to their commitment and their immense expertise, provide our customers with their support every day. They help to make our Group a central player in our economy, at the heart of the efforts to rise to the climate, digital and societal challenges facing us today."
1 Underlying figures and excluding SRF contributions - See note on methodology 2 Underlying 3 Estimate at end-December 2022