Thank you for registering! We sent you a confirmation email; please click the validation link to confirm your subscription.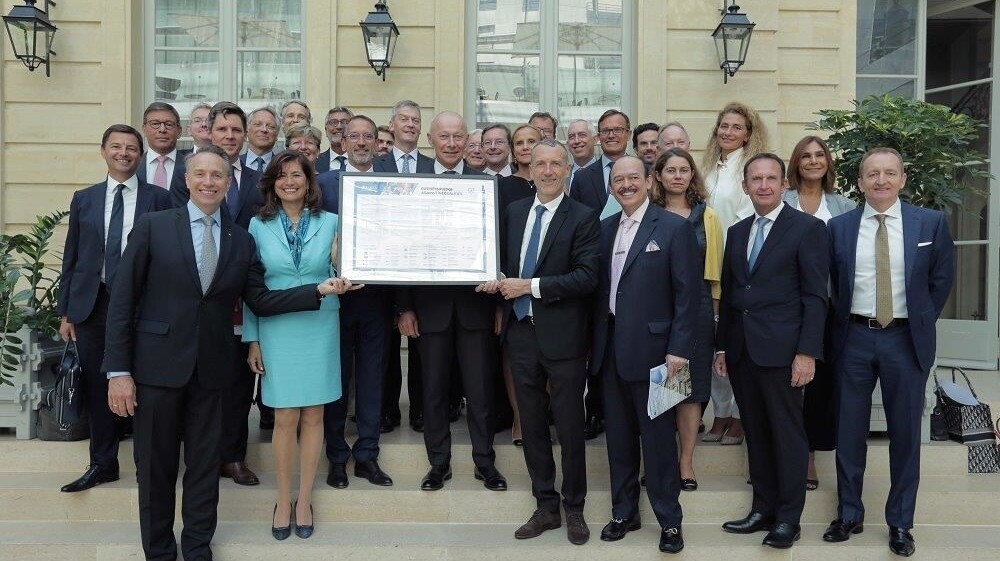 Groupe BPCE commits to tackling inequality by joining G7 Business for Inclusive Growth (B4IG) coalition powered by the OECD
Groupe BPCE has joined the Business for Inclusive Growth (B4IG) coalition of companies launched during the recent G7 Summit in Biarritz, France. The initiative, backed by the French President Mr Emmanuel Macron, is led by Danone and overseen by the OECD.
In recognition of record-high levels of inequality Groupe BPCE among a coalition of 34 leading international companies has committed to step up business action to advance human rights throughout their value chains, build inclusive workplaces and strengthen inclusion in their internal and external business ecosystems. In doing so, they will advance G7 government-led efforts to strengthen equality of opportunity, tackle regional disadvantages and fight gender discrimination.
Underpinned by its cooperative model and strong regional ties, Groupe BPCE, operating through its Banque Populaire, Caisse d'Epargne and Natixis brands, is particularly intent on developing the regions in which it operates and has already initiated several actions geared to this objective:
the group is the market leader in the personal and professional microcredit segment in France, having distributed close to 15,000 microloans amounting to over €100m by end-2018;
through its Purchasing function, Groupe BPCE evaluates its suppliers in all regions to ensure they respect best practices in terms of ethics and employment;
the Insertion Emplois Dynamique (IED) fund managed by Mirova is one of the leading SRI funds devoted to creating jobs in France;
Groupe BPCE takes part in the PAQTE program, with 6.2% of work-study participants originating from priority urban districts (compared to a government objective of 5%).
Laurent Mignon, Chairman of the Groupe BPCE Management Board, says: "Inclusive growth is one of the levers Groupe BPCE can employ to strengthen confidence among our clients and respond to their needs and aspirations. Thanks to our universal banking model coupled with our cooperative DNA and strong regional presence, Groupe BPCE, operating through the Banque Populaire, Caisse d'Epargne and Natixis brands, has always been engaged in supporting local economies in their various transitions. And now, thanks to this innovative initiative and public-private collaboration, Groupe BPCE will be able to accelerate and deepen its contribution toward the transformation of our society."
B4IG members have a global footprint, cover a broad range of sectors, employ more than 3.5 million people around the world and have combined annual revenues of over 1 trillion USD. The B4IG coalition is the first business-led initiative of its kind, thanks to its 360° approach to tackling inequality, international dimension, and multi-stakeholder approach focused on building synergies between companies, governments and philanthropic organizations. The coalition's strategy rests on three pillars: 
A Business Pledge Against Inequalities to advance human rights, workplace inclusion & diversity and value chain inclusiveness;
An incubator to design or expand new inclusive business models, piloting social innovation and private-public collaboration at the micro-economic level; and
An inclusive growth financing forum to promote innovative financing mechanism between business, governments and philanthropic actors.
How the Business for Inclusive Growth (B4IG) coalition works
The G7 B4IG coalition will be coordinated by the OECD, whose work has shown that inequalities hamper growth and social mobility. The coalition will benefit from OECD economic and social evaluation expertise as it advances on this agenda over the next three years. Progress and lessons learned will be shared during an annual board meeting, with CEOs and key figures from public and civil society sectors, including the International Labour Organisation and the Bill & Melinda Gates Foundation. B4IG results will be shared with the Business 7 and Labour 7, to help inform their preparation and contributions to G7, with a view to foster more inclusive macro-economic growth policies.
B4IG is presented to President Emmanuel Macron at the Elysée Palace on Friday, September 23, ahead of the G7 Leaders' Summit in Biarritz.
Groupe BPCE operates a universal cooperative banking model represented by 9 million cooperative shareholders and is the second-largest banking group in France. Through its 105,000 staff, the group serves over 30 million clients - individuals, professionals, companies, investors and local government bodies – around the world. It operates in the retail banking and insurance fields in France via its two large networks, Banque Populaire and Caisse d'Epargne, along with Banque Palatine. With Natixis, it also runs global asset management, corporate & investment banking and payments business lines. The group leverages these extensive capabilities to offer a comprehensive and diversified array of deposits & savings, cash management, financing, insurance and investment solutions. Groupe BPCE is recognized for its financial solidity by four major financial rating agencies: Moody's (A1, stable outlook), Standard &Poor's (A+, stable outlook), Fitch (A+, stable outlook) and R&I (A, positive outlook).
Business for Inclusive Growth (B4IG) is a global coalition, powered by the OECD, which aims to pool and strengthen efforts by private companies to reduce inequalities linked to opportunity, gender and territories, and to build greater synergies with government-led efforts. Current members include: Accenture, Agropur, AXA, BASF, BNP Paribas, Groupe BPCE, CareCentrix, Cogeco, Crédit Agricole, Danone, Engie, GINgroup, Goldman Sachs, Henkel, INGKA Group (IKEA's franchisee), JPMorgan, JAB / Keurig Dr Pepper, Johnson & Johnson, Kering, Legal & General, L'Oréal, MARS, Groupe Renault, Ricoh, Schneider Electric, Sodexo, Suez, TIAA, Unilever, Veolia, Virgin and Ylva.
The OECD is an international organisation that works to build better policies for better lives. Together with governments and civil society, it establishes standards and seeks evidence-based solutions to a range of social, economic and environmental challenges. The OECD website provides further information on the B4IG initiative and on its work on inequality and inclusive growth. Additional enquiries on OECD work on inclusive growth and for the G7 should be addressed to gabriela.ramos@oecd.org, to romina.boarini@oecd.org or to the OECD's Media Office.
Expert
Chief Executive Officer (CEO) - Groupe BPCE
Laurent Mignon has been CEO of Groupe BPCE since June 1st, 2018.  He is also Chairman of the Board of Directors of Natixis and a director of CNP Assurances. In...