Thank you for registering! We sent you a confirmation email; please click the validation link to confirm your subscription.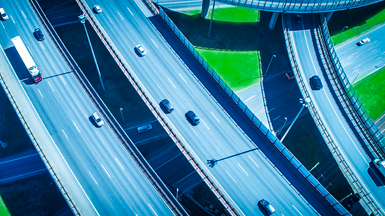 Infrastructure Debt Finance Through the Pandemic and Beyond - Part II: Looking into the Future
New York, NY, USA,
November 12, 2020
In this second installment of a two-part series, Bhaswar (Joy) Chatterjee, Managing Director and Co-Head Americas Credit Syndicate for Natixis CIB Americas, shares his reflections on the global infrastructure business amid the COVID-19 pandemic. In Part 1, Joy examined the state of the infrastructure debt market during the early stage of the crisis, particularly Q2 of 2020. Although there were some outliers, he notes, in general, the sector maintained its reputation for greater lender protections and lower volatility than other alternative asset classes. With the crisis not yet over, it may be premature to start gazing into a post-pandemic world for infrastructure debt. However, there are some guideposts for the future.
In Part 1 we examined the state of the infrastructure debt market during the early stage of the pandemic, particularly Q2 of 2020. There were some outliers but, in general, the sector maintained its reputation for greater lender protections and lower volatility than other alternative asset classes.
The widespread need for infrastructure investment only continues to grow. According to the outlook of the G20's Global Infrastructure Hub, the gap between expected and required investment globally over the next decade is $5.5 trillion. A significant proportion of this required investment will have to be covered by private sector debt finance.
With the crisis not yet over, it may be premature to start gazing into a post-pandemic world for infrastructure debt. However, there are some guideposts for the future.
WIDER PARTICIPATION BY BANKS AND INSURERS
The resilience of private infrastructure debt compared to corporate loans, leveraged finance and even other real asset sectors such as real estate and aviation is becoming apparent. The relative lack of volatility in the sector arises from the selection of strategically important underlying assets, the strong contractual framework and the close monitoring of these assets by project parties including sponsors, independent consultants and lenders.
Meanwhile, we now have a low yield environment with 10-year US Treasury yields at ~75 bps and the investment grade corporate spread index already inside the levels seen at the beginning of March. Yields in other senior secured debt such as CMBS are around 3% (the CMBS benchmark AAA bonds are now inside 2%). This lends added impetus to debt investors to seek some yield pickup in private markets with relative illiquidity as the price of entry.
Having been proven in this downturn, infrastructure private debt is surely likely to appeal in the future to a broader group of investors seeking steady income streams from risk profiles that are often linked to sovereigns and utilities but offer a pickup and often further protection through direct collateral.
Regulated entities such as banks and insurance companies which benefit from higher risk adjusted returns already look favorably (though often without specialist knowledge) towards this sector. This engagement can only increase after the current crisis and as awareness of this sector improves.
GROWTH OF INFRASTRUCTURE DEBT INVESTMENT MANAGERS
A corollary to this engagement is the requirement to pool expertise and, therefore, the role of specialists in infrastructure debt is likely to grow. Investment managers who typically would have deployed less than a third of their time to active portfolio management spent the majority of their time and resources (up to 90% anecdotally) on this during the pandemic. This effort paid off with many investment managers reporting de minimis levels of defaults / restructurings. This specialist attention is required for infrastructure debt which can be heavy on covenants with specifically designed tripwires that necessitate close monitoring.
Origination of loans for infrastructure is also a time intensive activity with the gestation period for new deals being 3-6 months on average. New investors who either align their interests with specialists such as banks or provide some fiduciary control to investment managers are therefore likely to climb this steep learning curve faster.
An additional element that is likely to spur the growth of infrastructure fund is objective measurability of performance. Due to the dominance of banks in the infrastructure debt sector, there was limited data available in the public domain to measure performance against. The development of various indices related to infrastructure debt (notably by the EDHEC Infrastructure Institute) will assist in this effort and allow infrastructure debt funds to demonstrate performance against a range of indicators.
REGULATORY CHANGES
Regulatory changes are necessary to accommodate infrastructure as a distinct asset class especially with consideration of the relatively lower risk characteristics. For example, although in Europe, the Solvency 2 rules for insurers have specific parameters for infrastructure, this is not the case in the US, where insurers have much greater latitude to invest in real estate debt versus infrastructure. In fact, currently, for US insurance companies, the assignment of National Association of Insurance Commissioners' (NAIC) designations and the risk-based capital charges for infrastructure investments are the same as for other similarly-rated debt and equity, while there are separate categorizations for real estate.
The response to the crisis (and hopefully the academic research arising from it) should guide the development of a more accommodative regulatory framework for infrastructure loans. This was already under discussion based on findings by ratings agencies (notably the Moody's annual global study of default and recovery rates for project finance bank loans), but should now accelerate after being tested by the crisis.
EVOLUTION OF SUB-SECTORS
Infrastructure today is a broad sector, with no standard definition. While industry participants automatically know what 'Infrastructure' is - typically by reference to some cashflow characteristics and specific sub-sectors – there are often discussions around 'Core plus' and even 'Core plus plus'. At the heart of these considerations are some well banked areas, which are typically considered strategic, capital intensive and long life. However, tomorrow new sub-sectors are likely to be considered strategic (and have already made big strides). Principal amongst these is telecoms – a sector with a checkered past of defaults and losses but now with a bright future powered by the growth of mobile technology, big data and remote working. Data centers, fiber networks and cell towers – essentially the longer life elements of a fast evolving sector – have already seen huge growth in project debt: 105% growth from 2017 to 2019 with a global volume of $13bn in 2019 according to Dealogic (this excludes loans in the real estate market, securitizations and leveraged loans).
At the same time, certain sub-sectors are facing head winds. Oil and gas financings have been a mainstay of the project finance loan market for decades. With all its growth, the telecoms sector was only 3.3% of the global project finance market in 2019, while oil and gas related infrastructure (even with prevailing low oil prices) represented over 10%. However, a secular downturn in oil and gas investment is clearly looming with already low prices exacerbated by the slowdown of energy consuming global economic activity. While existing infrastructure will be refinanced multiple times, it is likely that new investments, particularly in upstream areas, will be muted.
The trend towards greener infrastructure is an important factor not just for the renewable energy, power and oil and gas sectors but also for areas such as mining. Coal mining is both uneconomic and harmful to the environment; many banks had already exited this space. However, involvement in newer areas such as lithium mining needs a more nuanced approach.
Banks and other investors have been developing ESG assessment mechanisms over the past couple of years and had already started biasing their portfolios towards greener infrastructure. It is likely that the downturn will be used as a reason to exit or de-emphasize some 'non-green' businesses. This is, of course, a significant standalone topic to be explored further.
PORTFOLIO FINANCING AND SECURITIZATION
While the genesis of project financing is long term finance for single, capex intensive assets, with the development of new asset classes, there is a definite trend towards portfolios of assets. Examples of this include residential and distributed generation solar assets, co-location data centers, cell towers etc. Lenders are asked to take a risk view of the entire portfolio, deriving additional comfort from the disaggregated nature of the assets. While there may be some non-correlated risks, this also can lead to lower standards of diligence of individual elements of the collateral.
Inevitably, this also results in discussions around securitization, with all of the above examples having been securitized in recent years. The trend towards securitization is only likely to increase, as successes are seen for these asset classes drawing increased interest from securities investors. Meanwhile banks propelled by regulatory requirements and asset light strategies, would also seek to find other permanent holders of project finance loans.
CONCLUDING THOUGHTS
The infrastructure debt finance market has proved its resilience during the pandemic. This is likely to serve as an opportunity to widen and deepen the market by exploring new areas and introducing a range of new investors. Regulatory changes and emerging structures could be further enablers for the growth of this market.