Thank you for registering! We sent you a confirmation email; please click the validation link to confirm your subscription.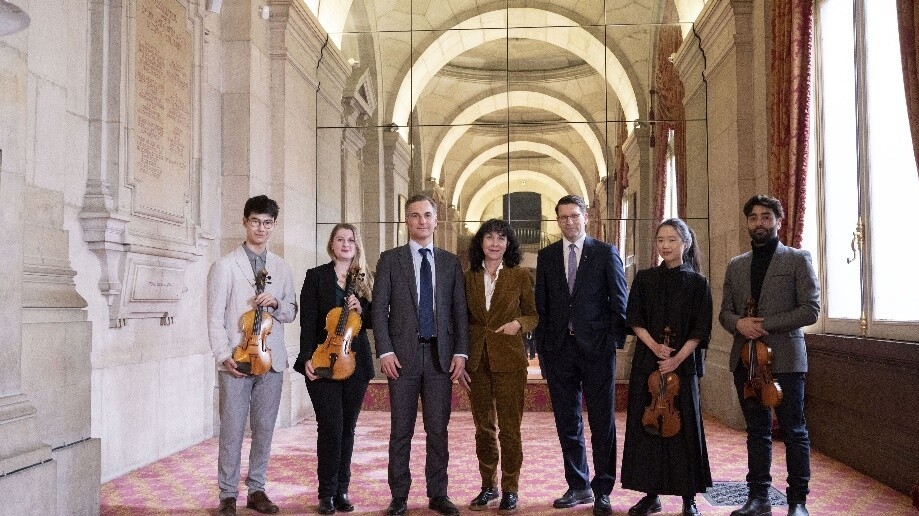 Natixis IM and Natixis CIB renew and extend their partnership with the Paris Opera until 2024
Paris, France,
April 1, 2022
Natixis Investment Managers and Natixis Corporate & Investment Banking are pleased to announce that they have extended their partnership with the Paris Opera as founding sponsors of its Academy and sponsors of its Musicians in Residence program until 2024. In addition to this renewed support, the partnership will also promote the development of a gender-balanced lyrical music conductor training program.
©FabriceVallon_GroupeBPCE
Alexander Neef, Myriam Mazouzi, Nicolas Namias
Natixis Investment Managers (Natixis IM) and Natixis Corporate & Investment Banking (Natixis CIB), Groupe BPCE's Global Financial Services businesses (GFS), have supported the Paris Opera since 2015 as founding sponsors of the Academy and sponsors of the Musicians in Residence program.
This renewed partnership with the Paris Opera Academy out to 2024 will equally support the development of a new lyrical music conductors in residence training program for women and men. This training program creates two positions to train as lyrical music conductors and ensures a gender balance with a view to promoting equal opportunities for female and male conductors. This initiative is consistent with Natixis IM's and Natixis CIB's pledges to promote gender equality in the workplace and support training for young people.
Nicolas Namias, CEO GFS (Natixis IM et Natixis CIB), states: "I am thrilled to extend our partnership with the Paris Opera and its Academy, and to promote the deep-rooted convictions that we share: gender balance, which is a crucial challenge in both the corporate world and culture; the importance of training and diversity; and a commitment to supporting talented youth from across the world."
Alexander Neef, Director General of the Paris Opera, adds: "We would like to sincerely thank Natixis IM and Natixis CIB for their faithful support as main sponsors for the Paris Opera, which helps us fulfil one of our key roles in passing on culture and knowledge. This priority has been firmly rooted at the very center of our organization's purpose since the creation of the Royal Dance and Music Academies in the 17th century. I would also like to applaud their commitment to supporting gender equality as they help us develop a training program with an equal gender balance for women and men preparing to become lyrical music conductors at the Paris Opera Academy".
Myriam Mazouzi, Director of the Paris Opera Academy, notes: "We are very proud to have enjoyed the support of Natixis and its businesses since 2015 in backing our training program for talented young students at the Academy. This has promoted the emergence of a new generation of professional musicians. Passing on culture and expertise across generations is crucial in safeguarding the future of opera, and we are delighted that Natixis IM and Natixis CIB are extending their patronage and supporting our new gender-balanced training program to accompany women and men preparing to become lyrical music conductors at the Paris Opera Academy. This will help bolster women's representation as conductors, as currently only 4% of conductors in France are women."
©FabriceVallon_GroupeBPCE
Julius Bernard, Marie Ducroux, Nicolas Namias, Myriam Mazouzi, Alexander Neef, Zi An Wu, Yoan Brakha
Natixis Investment Managers' multi-affiliate approach connects clients to the independent thinking and focused expertise of more than 20 active managers. Ranked among the world's largest asset managers1 with more than $1,400 billion assets under management2 (€1,245.5 billion), Natixis Investment Managers delivers a diverse range of solutions across asset classes, styles, and vehicles, including innovative environmental, social, and governance (ESG) strategies and products dedicated to advancing sustainable finance. The firm partners with clients in order to understand their unique needs and provide insights and investment solutions tailored to their long-term goals.
Headquartered in Paris and Boston, Natixis Investment Managers is part of the Global Financial Services division of Groupe BPCE, the second-largest banking group in France through the Banque Populaire and Caisse d'Epargne retail networks.
1 Cerulli Quantitative Update: Global Markets 2021 ranked Natixis Investment Managers as the 15th largest asset manager in the world based on assets under management as of December 31, 2020.
2 Assets under management ("AUM") as of December 31, 2021, are $1,416.3 billion (€1,245.5 billion). AUM, as reported, may include notional assets, assets serviced, gross assets, assets of minority-owned affiliated entities and other types of non-regulatory AUM managed or serviced by firms affiliated with Natixis Investment Managers. Excluding H2O Asset Management.
Natixis Corporate & Investment Banking is a leading global financial institution that provides advisory, investment banking, financing, corporate banking and capital markets services to corporations, financial institutions, financial sponsors and sovereign and supranational organizations worldwide.
Our teams of experts in 30 countries advise clients on their strategic development, helping them to grow and transform their businesses, and maximize their positive impact. We are committed to supporting the environmental transition by aligning our financing balance sheet with a +1.5°C trajectory by 2050.
As part of the Global Financial Services division of Groupe BPCE, the second largest banking group in France through the Banque Populaire and Caisse d'Epargne retail networks, Natixis CIB benefits from the Group's financial strength and solid financial ratings (Standard & Poor's: A, Moody's: A1, Fitch: A+, R&I: A+).
Created in 2015, the Paris Opera Academy articulates its missions around Transmission, Training and Creation.
Its ambition is to support the emergence of tomorrow's professionals. Nearly thirty artists from around the world are welcomed in residence to complete their training, learn and grow alongside recognized professionals. Singers, pianists, conductors, musicians and directors all work together, share common experiences and participate in the Paris Opera's creations. The Academy's transmission program allows the Paris Opera to continue to be both a conservatory and a laboratory for all professions related to creation.
The Paris Opera Academy has developed innovative arts education programmes with the aim of passing. Passing on a culture and a heritage, passing on know-how about technical and artistic professions that the Opera strives to make known and to promote to people from different backgrounds. In a school, family or association setting, introductory courses to opera and dance are offered in the form of performances, meetings and artistic practice workshops. The aim is for participants to discover an operatic or choreographic work, to understand its essence and to feel the emotion it arouses, and finally to discover a whole professional world that unites artistic and technical professions.
Expert
CEO of BPCE
Nicolas Namias, has been CEO of BPCE since December 3rd, 2022.  He began his career in 2004 in the Treasury department of France's Ministry for the Economy and...