Thank you for registering! We sent you a confirmation email; please click the validation link to confirm your subscription.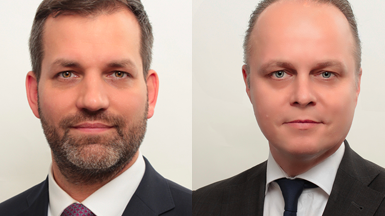 Natixis underlines its growth ambitions in Germany with two senior hires
Frankfurt am Main, Allemagne,
December 17, 2018
Natixis has announced the appointment of two new senior bankers, Rene Hartert and Alik Hertel, to its Frankfurt -based team, as it aims to further grow its business with Financial Sponsors and Insurers in the region.
Rene Hartert has joined Natixis as Head of Financial Sponsor Coverage for the DACH region (Germany, Austria and German-speaking Switzerland). He reports to Hansjörg Patzschke, Senior Country Manager Germany and CEO of Natixis Pfandbriefbank AG and globally to Imed Ben Romdhane and Edith Aviles de Kostes, Global Co-Heads of Sponsor Coverage.
Rene has extensive experience working with private equity clients, most recently with Commerzbank's Leveraged Finance department and earlier with Bank of Scotland and Allied Irish Banks. In this new role he will work closely with Natixis' various product divisions to offer private equity clients a broad solutions portfolio spanning asset-backed and real estate financings, structured equity products, advisory services in M&A and equity capital markets, as well as leveraged loans and high yield bonds.
Alik Hertel has been appointed Head of Insurance Coverage for Germany and Austria , reporting to Oliver Bender, Head of Financial Institutions and Public Sector Coverage, Germany and Austria, and globally to Thibaut Le Maire, Global Head of Insurance Coverage.
Alik has strong expertise in insurance and capital markets. Before joining Natixis he was with Talanx AG for 14 years in a number of roles including Head of Group Corporate Development and M&A and Head of Group Treasury, having notably overseen Talanx's intial public offering in 2012. He will work closely with Natixis' various product divisions to offer a broader range of solutions to insurance clients and to contribute his expertise, particularly in the areas of strategic dialogue, equity and debt financing, asset-liability management and efficient investments under the Solvency II Directive.
Hansjörg Patzschke said: "Insurers and Financial Sponsors are two key client segments under Natixis' 2018-20 strategic plan, New Dimension. The recruitment of two such senior industry figures as Rene and Alik reflects the importance of the DACH region in pursuing this objective, and is aimed at enhancing our ability to deliver strategic advice and bespoke financial solutions to our clients"