Thank you for registering! We sent you a confirmation email; please click the validation link to confirm your subscription.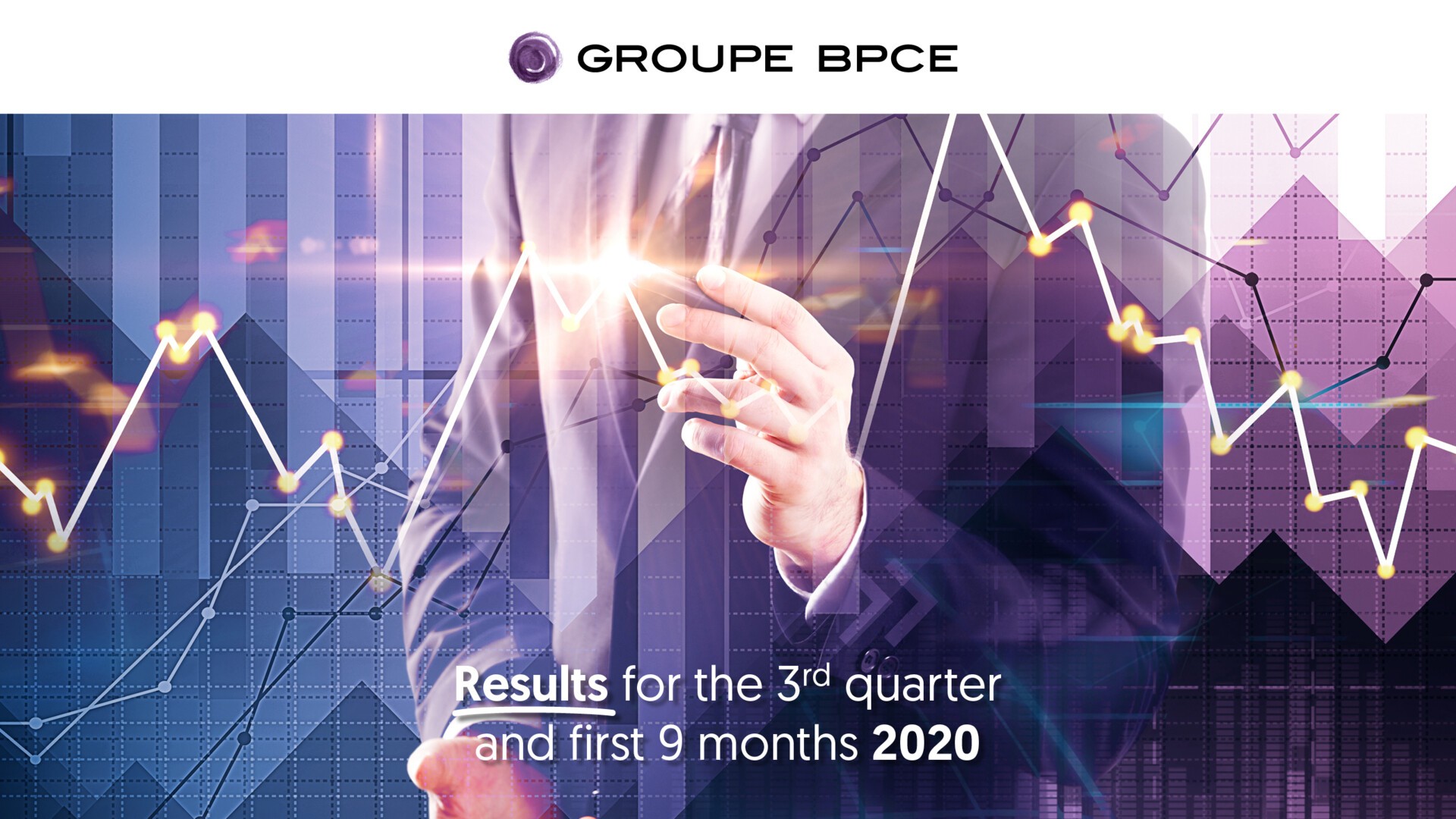 Q3-2020 and 9m-2020 financial results for Groupe BPCE
Results for Q3-20 and 9M-20
Robust business momentum and revenue growth in the Retail Banking & Insurance businesses
New value-creating trajectories in the AWM and CIB divisions
Financial strength among the highest in the European banking industry
9M-20: Net banking income of €16.2bn, reported net income1 of €986m and underlying net income1 of €1.5bn, including the continued pursuit of a prudent provisioning policy
Reported Q3-20 results: Net banking income of €5.5bn and net income of €674m, down 28%
Retail Banking & Insurance: increase in revenues and profitability; very good Q3-20 performance, 4.8% growth in net banking income and a 9.9% rise in gross operating income, driven by a strong commercial momentum and good cost control
Loan outstandings: growth of 11% year-on-year, driven by the Banque Populaire and Caisse d'Epargne retail banking networks serving individual, professional and corporates
Insurance: continued business development with revenue growth of 7.1% in Q3-20 and 8.3% in 9M-20
Financial Solutions & Expertise: net banking income up 2.5% in 9M-20 and 6.5% in Q3-20 driven by synergies with the retail networks
Asset & Wealth Management: €910bn in assets under management at end September 2020, good momentum in the US and in ESG expertise. €1,060bn in assets under management in early November following the merger between Ostrum AM and LBP AM.
Net inflows in Q3-20 of €2bn2, driven in particular by the expertise of Loomis and Mirova
Net banking income down by a limited 6% in Q3-20 YoY, excluding performance fees
Creation of a leader in insurance-related asset management, 100% SRI, with the completion of the Ostrum AM/LBP AM merger
Corporate & Investment Banking: significant improvement in operating profitability vs. Q2-20
Q3-20 net banking income of €703m, -10% YoY
+28% YoY for the IB/M&A businesses in Q3-20 thanks to the development of DCM and M&A expertise in the US and to performance of the Asia-Pacific platform
Enhanced operating efficiency: operating expenses decreased by 3.2% in Q3-20 and by 2.7%3 in 9M-20
2.6% decline in operating expenses in the Banque Populaire and Caisse d'Epargne networks over the 9-month period

Natixis: new transformation and operational efficiency plan with the goal of costs saving by €350 million to 2024
Cost of risk: continued implementation of a prudent provisioning policy
New forward-looking provisioning of €120m in Q3-20, representing a total of €673m in 9M-20
Stability of incurred risk in 9M-20 in the Banque Populaire and Caisse d'Epargne networks compared with 9M-19
Group cost of risk at 38bp in 9M-20 and at 32bp in Q3-20
Capital position, financial and ESG ratings at the banking industry's highest levels
CET1 ratio4 stood at 15.9% at the end of September 2020, 510bps over MDA
LT credit rating confirmed by 4 rating agencies at A1/A+
Groupe BPCE's rating upgraded to AA by the MSCI agency
Strategy developments: implementation of new trajectories creating sustainable value
CIB – Equity Derivatives: Exit from most complex products and tightened exposure limits on low/medium risk products. These products will essentially be offered to Groupe BPCE retail networks and Natixis' selected strategic clients
CIB – Oil & Gas: total withdrawal from shale oil and gas activities in the United States within 2 years,
Asset Management: discussions on the possible progressive sale5 of Natixis IM's stake in H2O AM and the orderly resumption by H2O AM for the distribution of its products over a transition period until the end of 2021
Laurent Mignon, Chairman of the Management Board of Groupe BPCE, said: "Groupe BPCE is doing more than just weathering the current crisis and its expected continuation in the future thanks, in particular, to the very good levels of business activity in our two major Banque Populaire and Caisse d'Epargne retail banking networks. All of our people are mobilized to work with our customers as closely as possible and to identify, with them, the best financial solutions enabling them to face up to this crisis. Our financial strength, our cooperative and universal banking model very close to the territories, and the quality of our range of products and services will prove to be essential strengths to get through this difficult period. A new trajectory for creating value has been adopted by Natixis and our Group, solid, united and transformed, is actively working on the definition of its next strategic plan."
1 See note on methodology, and after restating to account for the impact of IFRIC 21 2 Excluding H2O AM 3 Excluding SRF contributions 4 Estimate at end-September 2020 5 Such evolution would be subject to consideration and approval by relevant regulatory authorities.
---
Find more information on : https://groupebpce.com/en/investors/results-and-publications/results-presentations