Thank you for registering! We sent you a confirmation email; please click the validation link to confirm your subscription.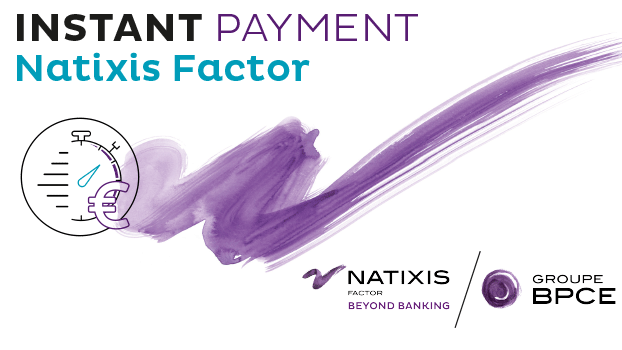 Natixis Factor becomes France's first factoring specialist to offer instant payment, enabling Banque Populaire and Caisse d'Epargne clients to finance their receivables
By offering this new secure European instant payment service on factoring solutions to Group clients, Groupe BPCE confirms its leading position in instant payment in France.
Working through Natixis Payments, Groupe BPCE was the first banking group in France to offer instant payment to clients, notably for providing quick compensation for insurance claims lodged by Natixis Assurances clients.
Natixis Factor now becomes France's first factoring specialist to offer instant payment services on factoring solutions to professional and corporate clients of the Banques Populaires and Caisses d'Epargne networks. This initiative underscores the momentum generated by Groupe BPCE's ongoing digital transformation process and its focus on delivering new client experiences. 
When transmitting their invoices to Natixis Factor online, businesses can now opt to have them settled immediately via instant payment* for each financing request up to €15,000.
Once the instant payment option is selected, funds are credited and available immediately on the company's bank account.
"This new payment method affords business proprietors and treasurers a welcome degree of comfort, by allowing them to gain swift access to funds and to manage the company's cash in the best way", underlines Claude Valade, Chief Executive Officer, Natixis Factor.      
* For current accounts held with banking establishments accepting instant payment, excluding weekends and public holidays, subject to invoices being transmitted before 11.00am and to contractual conditions pertaining to the release of funds.
Groupe BPCE operates a universal cooperative banking model represented by 9 million cooperative shareholders and is the second-largest banking group in France. Through its 105,000 staff, the group serves over 30 million clients - individuals, professionals, companies, investors and local government bodies – around the world. It operates in the retail banking and insurance fields in France via its two large networks, Banque Populaire and Caisse d'Epargne, along with Banque Palatine. With Natixis, it also runs global asset management, corporate & investment banking and payments business lines. The group leverages these extensive capabilities to offer a comprehensive and diversified array of deposits & savings, cash management, financing, insurance and investment solutions. Groupe BPCE is recognized for its financial solidity by four major financial rating agencies: Moody's (A1, stable outlook), Standard &Poor's (A+, stable outlook), Fitch (A+, stable outlook) and R&I (A, positive outlook).
Natixis is the international corporate and investment banking, asset management, insurance and financial services arm of Groupe BPCE, the 2nd-largest banking group in France through its two retail banking networks, Banque Populaire and Caisse d'Epargne. With more than 18,000 employees, Natixis has a number of areas of expertise that are organized into four main business lines: Asset & Wealth Management, Corporate & Investment Banking, Insurance and Specialized Financial Services. A global player, Natixis has its own client base of companies, financial institutions and institutional investors as well as the client base of individuals, professionals and small and medium-size businesses of Groupe BPCE's banking networks.
Figures as at December 31, 2018
For more information please visit the Natixis website: www.natixis.com Follow us on Twitter @natixis