Thank you for registering! We sent you a confirmation email; please click the validation link to confirm your subscription.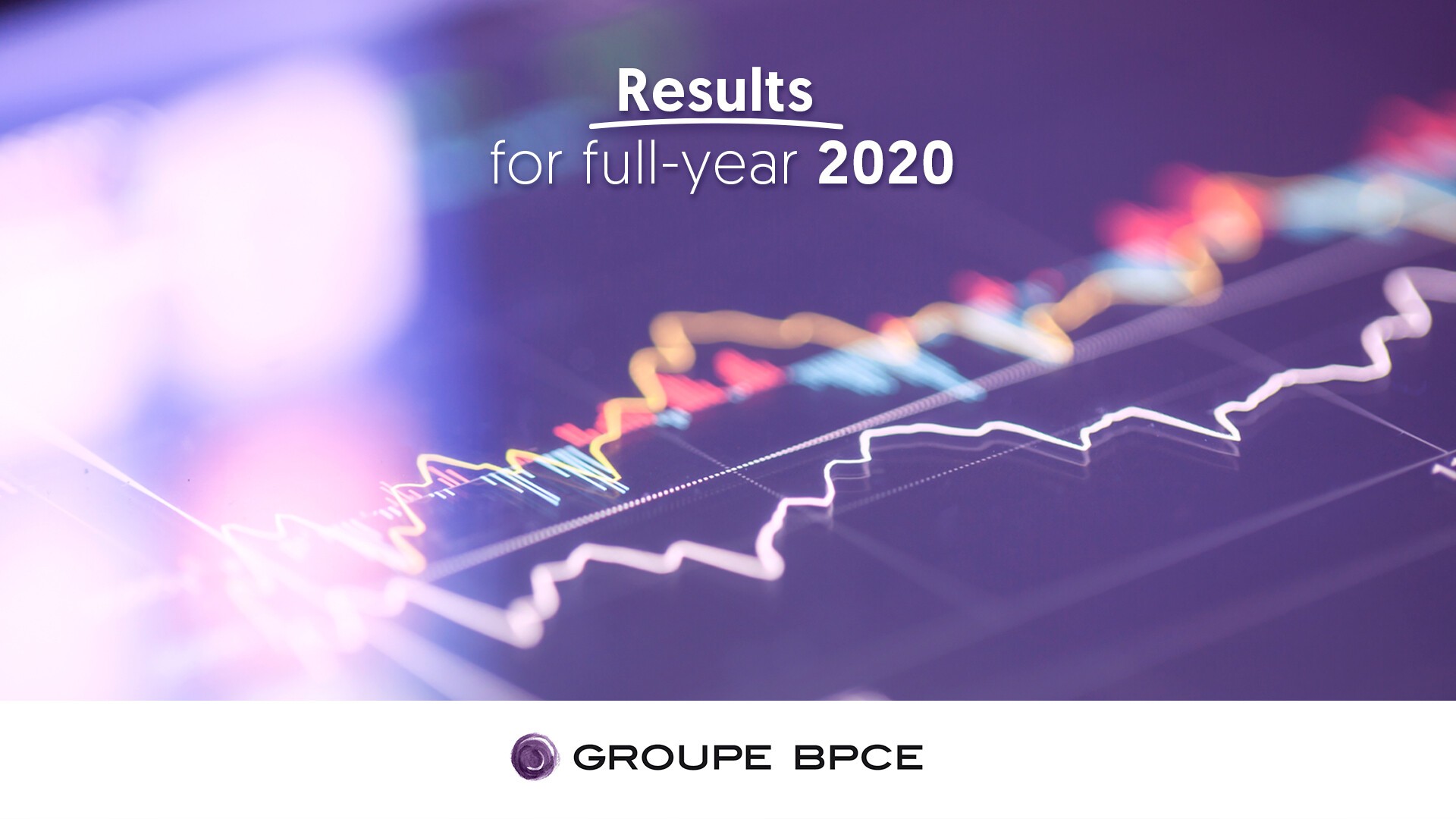 Groupe BPCE 4th quarter and annual results 2020
Q4-20 and 2020 results
Solid results, strong business momentum, proven ability to support our customers
and absorb the impact of the crisis
Project to simplify the group organization to serve the development of our businesses
2020: net banking income of €22.5bn and reported net income (Group share) of €1,610m (-46.9%)
including a resolutely prudent provisioning policy
Underlying net banking income and net income1 (Group share) of €22.5bn and €2.1bn respectively
Q4-20 reported figures: net banking income of €6.3bn, up 2.9%, gross operating income of €1.9bn, up 15.8%,
 and net income (Group share) down 20.9% to €624 million.
 
Retail Banking & Insurance: revenues up 2.6%2 and gross operating income up 6.7%2 in 2020, 4%2 growth in revenues and 11.9%2 increase in gross operating income in Q4-20, thanks to a very good level of business activity and strict cost control
Loan outstandings: up 11% year-on-year, of which +8% for residential mortgages and +7% for equipment loans
Insurance: net revenue growth of 8% in 2020, with a 5% increase in earned premiums for P&C insurance

Financial Solutions & Expertise: gross operating income up 10% in 2020

driven, in particular, by Leasing, Sureties, and Consumer credit
Asset & Wealth Management: €1,135bn in assets under management at end-December 2020
Net inflows of €11bn in Q4-20 driven notably by Mirova's expertise in ESG and the Equity and FI strategies in the US
Q4-20: limited 9.6% year-on-year decline in net banking income and up 16% excluding H20 AM
Corporate & Investment Banking: back to business growth in Q4-20 with a 2% year-on-year increase in net revenues at constant exchange rates
FIC-T revenues up by 17% QoQ and 7% QoQ for Global Finance activities in Q4-20
M&A revenues up 6% in 2020 YoY
Income before tax of €189 million in Q4-20, up 2.4% YoY
Tight control of operating expenses: 2.8% decrease in Q4-20 and 2.9%3 in 2020
Positive jaws effect in the Banque Populaire and Caisse d'Epargne networks in Q4-20 and in 2020
Cost/income ratio enhanced by 4.5 pp in Q4-20 YoY in the Corporate & Investment Banking business
Resolutely prudent provisioning policy
Provisioning level of €923m in Q4-20, at 49 bps, including around 65% provision for future risks (S1/S2)
Stability of occurred provision (S3) in 2020 in Retail Banking & Insurance vs. 2019
Cost of risk for the Group at €3bn in 2020, at 41 bps, of which 45% provisioning for future risks (S1/S2)
A "best in class" capital position among European G-SIBs
CET1 ratio4 of 16.0%

at end-December 2020, 520 bps above the threshold for triggering the MDA

TLAC4 and MREL4 stood at 23.6% and 30.2% respectively at end-December 2020
Determined and recognized commitments to society
Significant increase in Groupe BPCE's rating awarded by Vigeo Eiris, up from "Robust" to "Advanced"
For its first assessment by CDP, Groupe BPCE is awarded a rating of A-, one of the highest in the banking sector.
Groupe BPCE announces a project5 of simplification and evolution of its organization
The aim of the project is to enhance agility, strategic flexibility and efficiency for our businesses
To accelerate its development, Groupe BPCE filed a public tender offer on Natixis' shares, followed by a potential mandatory squeeze-out
Laurent Mignon, Chairman of the Management Board of Groupe BPCE, said: "All our teams, in all the companies within our Group, fully assumed their responsibilities this year and lived up to the exceptional situation we have all lived through. This makes me extremely proud and I would like to thank them for everything they have done. It has been remarkable how we have mobilized our resources massively in support of our customers with the rapid implementation of the full range of support measures, such as moratoriums, state-guaranteed loans, or specific support for the healthcare sector. The Group's results are solid, fully demonstrating the effectiveness of our decentralized and diversified business model. The Group has also a robust financial position, prudent regarding forthcoming risks and fully capable for preparing the future and facing the challenges that lie ahead. As we are preparing our upcoming strategic plan, the simplification project of our organization underpins our new ambitions to continue financing the economy, serve our customers, and our employees The strength of our Group is also based on our cooperative model, very close to the territories, combining efficiency with a long-term vision. We are, and we will remain, deeply committed to continuing our support for our customers' projects, to serving society in general and supporting recovery of our economy."
1 See note on methodology and excluding the Coface contribution 2 Pro forma, see note on methodology 3 Excluding direct regulatory costs 4 Estimate at end-December 2020 5 This change would be subject to approval by the relevant regulatory authorities
---
Find more information on : https://groupebpce.com/en/investors/results-and-publications/results-presentations